Cogosense Blog
Cogosense's Driver Behaviour Blog
Celebrating 100 Years of Saving Lives and Reducing Injuries
Founded in 1913, the National Safety Council is a pioneer in helping companies and the public prevent unintentional injuries and deaths by providing leadership, research, education and advocacy to reduce risks and improve safety at work, at home and in communities.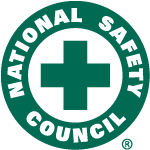 To fulfill this mission, the NSC partners with businesses, government agencies, elected officials and the public to focus where the most preventable injuries and deaths occur. As a result, the NSC has spearheaded many transportation safety initiatives, including those involving defensive driving, occupant restraints, speeding and drunk driving.
In 2009, with irrefutable evidence of the dangers of cell phone use in vehicles, the Council became the first organization to call for U.S. motorists to stop using all cell phones and text messaging devices while driving. Active efforts are also underway with the governors and legislators in every state to ban the use of cell phones while driving.
In 2011, the NSC recognized that technology would be a powerful complement to regulatory action and behavioral change, and partnered with Aegis Mobility to promote safe and legal use of mobile devices while driving. The nation's leading companies are now focused on increasing employee safety and reducing liability associated with their cars, buses, trucks and other fleet vehicles.
This year, on February 28 at the San Diego Convention Center and on April 25 at the Long Beach Convention Center, the NSC will sponsor a seminar to help corporations manage their distracted driving risks, covering:
How employers can be held liable if an employee is involved in a crash where cell phone use was a factor.
What to include in a cell phone policy.
How to build management support for a cell phone policy.
How to educate employees about the policy and ensure compliance.
For more information and to register, click here.